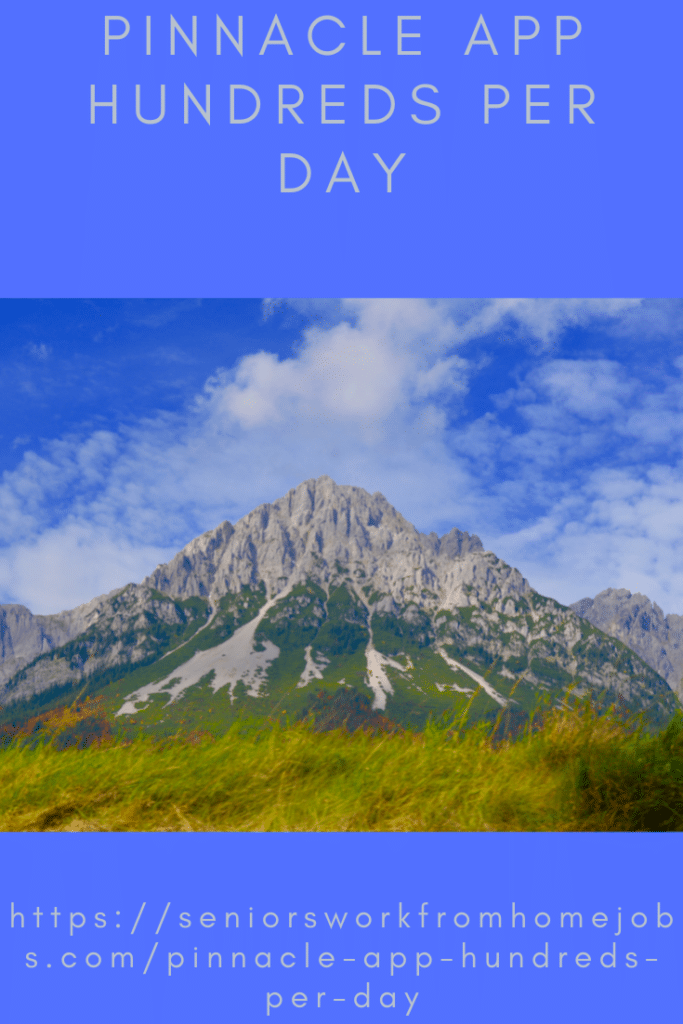 This new Pinnacle app hundreds per day, is described as:
Cloud-Based, Copy & Paste App…
We Generate Hundreds Per Day…
Hyper-Profitable Online Business In A Box…
No hosting or domains needed…
Unique Method To Enjoy PASSIVE Income…
No Complications. No Hassles….
Newbies Are Succeeding With This…
60-Day Money-Back Guarantee…
Hundreds per day sounds like something worth working towards, doesn't it? I decided to look into this system to make money online, and figure out how it actually works.
First, and most important to many, there is a 60 day money back guarantee if you decide it will not work for, or doesn't function as described. That's plenty of time to try it out and see if you DO make hundreds per day, even while learning the system.
What Exactly Is the Pinnacle App?
Pinnacle is a drop service – "Drop service is a business model where you sell services. Without having to deliver… 😉 Instead of doing the delivery yourself, your job is to find people who will do it for you along with marketing these services and earning a profit from the orders." – from here
At first glance at the demo, I see that buying hosting and domain names is mentioned, in the process. Also mentioned is a provided list of popular business names you might want.
So my understanding of that would be – hundreds or thousands of users will be choosing from the same list.
I think most people would want to come up with their own, so you really don't need that function.
Do I Need Pinnacle To Make Money Online?
Before we get into more functions provided with Pinnacle, I want you to know that you can get some free web site training, to develop a blog that is owned by you, not someone else up in the cloud, and that you can develop into perpetuity, just by clicking on the blue button below.
That Button will take you to a web page  where you can get an account for no-cost blog training!

This page contains affiliate marketing links. We may get paid a commission on the sale of a product or service recommended here. This does not change your price, you pay what the vendor advertises.
The author claims: "Basically, I take advantage of opportunities where I basically buy low and sell HIGH, at NO risk."  This buy/sell topic isn't made clear in the description given (posted at top of article).
Do I Need To Buy Anything Else?
TWO TIMES the promotional material states you do not need hosting or a domain name. But, in the video tutorial, it walks you through buying a domain name.
Remember that Blue Button above? That free-to-start system doesn't offer such an empty promise like you don't need a domain name. What it DOES offer, is, once you become a member, free hosting for 25 blogs.
Each blog you have will need a domain name, and in this membership community those will be charged to you at HALF the going rate, with some variation on whether you buy a .com, .co or a different suffix.
The author cites the following list of items, and I agree that they are important, especially for seniors wanting to make some extra revenue in retirement. And I quote:
Pinnacle Can Make Your Dreams A Reality…
When you start using Pinnacle, you'll discover that everything you want in your life can be achieved the easy way…
Getting Rid Of Your 9-5 Job
Stress-free Vacations
Financial Freedom
Life On YOUR Terms
Results Overnight…
Eliminating Your Debts
It is stated that this app is for complete beginners. Really?
It states you don't even need a list..Do beginners even know what that means?
The most successful bloggers I know spent at least six months working on one blog, before they started seeing commissions from affiliate marketing.
The Pinnacle app is NOT affiliate marketing, where a blogger promotes specific items for a retailer, and gets a commission when items a re purchased.
How Much Will I Actually Have To Spend?
Using Pinnacle, it clearly states you are going to buy services, then sell them for a  higher price.It is unknown what your financial outlay will be.
That's after you buy Pinnacle, for $197.00, to get the full training tutorials.
Pinnacle, while stating that you don't need a web site, also provides a web site builder. Again, I'm confused. I can see from watching my tutorial that you click a few times, choose a template for your web site (which you're not supposed to need) , but then you have to customize it.
If you don't customize it, your site is going to look like every other user's, right? 
Build Your Own Unique Blog
Wouldn't you rather work on a unique blog, built by you (no coding needed) focusing on your chosen topic or group of topics?
Topics that you have some expertise in and can write a lot about?
On a hosting platform that provides every detail of training you need to create a long term business web site?
I'm not knocking Pinnacle entirely, but the demonstrations of its functions leaves me with a lot of questions.
At my highly recommended training community, Wealthy Affiliate, you have over a million world wide users who will answer your questions if something in the classes confuses you.
I'm talking text and video guidance to build your blog with. To help you realize your talents and abilities.
To show you how to attract readers to your blog content, readers who will buy. A special tool for that is provided with the Wealthy Affiliate membership, and even in the no-cost trial of building a blog, that tool is accessible.
I haven't been through the 60 days of using Pinnacle yet, so I can't tell what the results might be, of drop-servicing 'middle-manning'. Being that middle person.
Advertising
Pinnacle supplies two advertising apps, both of which you can get yourself. One is to help you use Youtube to advertise, and the other is for creating ads on Pinterest – which you can also sign up for yourself anyway.
The Problem Of "Fully Automated"
In my experience, there is a problem with "fully automated", "done for you" systems. You don't create it. It doesn't sound like YOU.
There's no YOU there. Know what I mean?
How To Put YOU Into Your Blog
You choose your blog topic, or niche. Niche means the specific target of interest you may want to blog about. It can be chosen from a hobby you have, or a previous career. 
You have more expertise than you realize, once you start thinking about that. That's why, while I'm not putting Pinnacle App down, you have better choices, from my experience.
What's more, if you just look at a few moments of the Pinnacle App demonstrations, you're going to be really busy setting up a site, choosing services to sell, advertising and more.
There is really no auto-pilot activity bringing you hundreds per day, while you're setting this up.
So why not set up a free trial of blog training and see how a business blog is built the right way? You will get to experience enough to comprehend the value of the classes, the community and all the benefits of pro blog writing.

Related Material:
What Is A Legitimate Work From Home Business